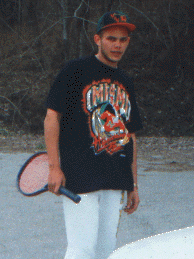 COACH TURNQUIST is pictured above.
Played Division II College Tennis at Kentucky State University
4th Year as Head Coach of SPHS Tennis Team
1 year as Assistant Coach
I began playing tennis after finding a couple of racquets in my friend's garage. I played on a High School team that was less than perfect to put it mildly. However, I fell in love with the sport of tennis and have continued to play. I am blessed to be associated with a group of wonderfully talented players. I consider myself a student of the game and I try to impart some of the knowledge of the sport to my players.
____________________________________________________
To My Players:
With all of my heart, I would like to thank each and every one of you who has taken time out of your busy lives to play for the Green Devil Tennis Team. Some coaches say they can't wait for the season to be over, but I can say that I can't wait for each season to begin and I hope that they never end. It is because of you that I look forward to each season. It is because of you that we have had such great years in my time at SPHS. I will always be grateful for the wonderful moments you have given me.
Love,
Coach Turnquist